Home
»
Antrim Driveway Paving
Antrim Driveway Paving
Are you looking for Antrim Driveway Paving Services?
We are experts carrying out Antrim Driveway Paving and block paving patio laying. We are extremely competitive in our pricing and have our own mini digger. This allows us to complete projects quickly and more efficiently. Join the rest of our satisfied Antrim customers and contact us to talk about your new driveway or patio today.
Our Pro Paving Mini – Digger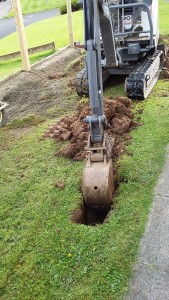 Our mini digger enables us to clear soil and dig foundations in no time at all. We own it and bring it with us to our projects so you can be assured that we can get your job done as quickly as possible. This saves time and more importantly saves you money. Whatever vision you have for your property, we can work to your plans or alternatively we can suggest layouts and features that will make your outdoors a wonderful space to spend time.
What Our Customers Say!
We pride ourselves on our excellent customer feedback. We believe it is very important to take on-board customer comments. We are very proud of our feedback and it can be viewed on our reviews page here. Pro Paving is constantly evolving. We now have a vast array or tools and machinery to help us create amazing spaces right here in Antrim and Northern Ireland wide.