Tarmac Services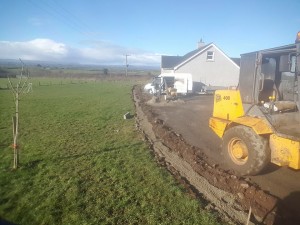 Pro Paving Tarmac Services. Did you know that Pro Paving NI carry out Tarmac laying. Tarmac is also known as Tarmacadam and is still very popular today for surfacing around your property. If you are looking for Tarmacadam contractors in Northern Ireland then give us a call!
We Operate across the country especially in Ballymena, Antrim, Ballymoney, Portrush, Coleraine, Portstewart, Castelrock, Articlave, Ballycastle, Garvagh, Limavady, BallyKelly and Magherafelt.
Pro Paving lay tarmac driveways, tarmac paths, tarmac ramps and other decorative areas using a mixture of Tarmacadam and Block Borders for beautiful detailing.
Tarmac With Block Paving Border
If you like both Tarmac and Block paving then have you considered a block paving border with tarmac infill? We have carried this out for many of our customers and they are delighted with the results. It adds that extra detailing to a Tarmac driveway.
Thickness of Tarmac
Be careful when people call to your door unannounced offering to "Tarmac your driveway". Most of the time they do not install adequate foundations and hard core which is the most important factor in a driveway. They will put one thin layer of Tarmacadam on the driveway which initially looks great. But over time this will sink and crack.
Pro Paving – Tarmac Done Right
Pro Paving prepare the area with good hard core and then we leave the surface strong enough to support the largest of cars and vans. We use layers of Tarmac and then fully compact to give a strong driveway or path that will not fail. We also pay attention to where the rain will run and ensure that no water rests on your new drive.
FREE Tarmac Estimates
For free Tarmac estimates Pro Paving NI are always happy to help. We will survey your ground and work out a price for your proposed works. Did you know we also lay Block Paving products too! If you prefer block paving, give us a call and we can provide a quote for each for you to compare.