Coleraine Garden Paving & Steps
Garden Landscaping Northern Ireland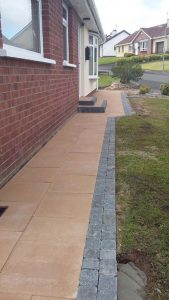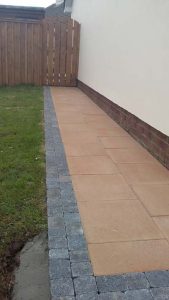 We love transforming a tired area into something more attractive. This is a job that was completed for Ryan in Coleraine. It consists of tobermore paving 400 x 400mm slabs (Golden – smooth). Previously there was only one front door step but it was much too low and did not look good at all. A two tier step was constructed using charcoal step risers and the Golden Tobermore Flags. It looks so much better now and the customer was extremely pleased overall.
In the above job, the client sourced his materials from Haldane Fishers and Jacobs Builders merchants Coleraine. It was delivered on-site and we did the rest. Alternatively we can order all materials for you and bring them to the job. It is completely up to you. At Pro Paving we are very flexible and like to work with our customers.
Give us a shout on: 07462 565 126
Paving & Wall Product Installation
Pro Paving is based in Broughshane just outside Ballymena. If you are looking to make your garden or outside space look more appealing then we want to hear from you! Gone are the days where people have to put up with an unsightly garden due to not knowing a reputable and enthusiastic team of workers. We enjoy working from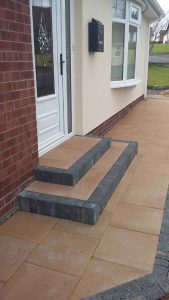 8:00am until late to get your paving or landscaping job done quickly!